Games
We make pixelart games because of one reason: we think it's fun. That said, we also hope that they are fun to be played!Here are a few games which made it past the prototyping phase.
Enjoy!

Guilty Henry
Help Henry out of his mess.

Xochipilli's Trade
Kill Ocelolaloni to get Xochipilli's relic.
HERMIT
Defend Hermit's home against the sea creatures.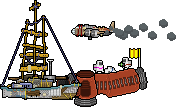 Atomik Bazar
Four cold war games.

yes Boss!
Balance between work and fun with the Boss.

Reflexio
Find the lost archeologs in a thrilling quest through antiquity.

Clash Chorale
Play as a choir leader trying to rule the city.

Pizza Drift
Play as a pizza delivery guy living for drifting.
Contact